Today the Mets played their 32nd game of the year. That matters to me. Let's rewind to April 20th.
If you divide the MLB season into ten 16-game mini-seasons, it helps give some perspective to how your team is doing.

— Dan Lewis (@DanDotLewis) April 21, 2017
Basically: if your team goes 9-7 each mini-season, you end up at 90-70 and w/a great chance at a postseason berth. It's a good sample size.

— Dan Lewis (@DanDotLewis) April 21, 2017
The Mets first mini-season was, well, meh. One fewer win than you'd want, perhaps as many as three key injuries (not counting Matz/Lugo).

— Dan Lewis (@DanDotLewis) April 21, 2017
While the Mets could have very easily won three to five of the games they lost, they also could have very easily lost a 9th.

— Dan Lewis (@DanDotLewis) April 21, 2017
All said, it's not a good start, but it's not a big problem either.

— Dan Lewis (@DanDotLewis) April 21, 2017
Now we're 32 games in, which means the Mets finished mini-season #2.They went 8-8. TAnd you know what? I'll take it.
First, the opponents were better. Six games versus the Nationals is six more than the Mets had in their first 16 games. That's not saying much, but 6-4 against the non-Nats field and 2-4 against the Nats is acceptable in a normal year. And this isn't a normal year so far.
Second, the team is really hurt. Comically so. I'm not talking about Thor — that's a separate and longer-term issue. Take a look at the lineup for Game 32.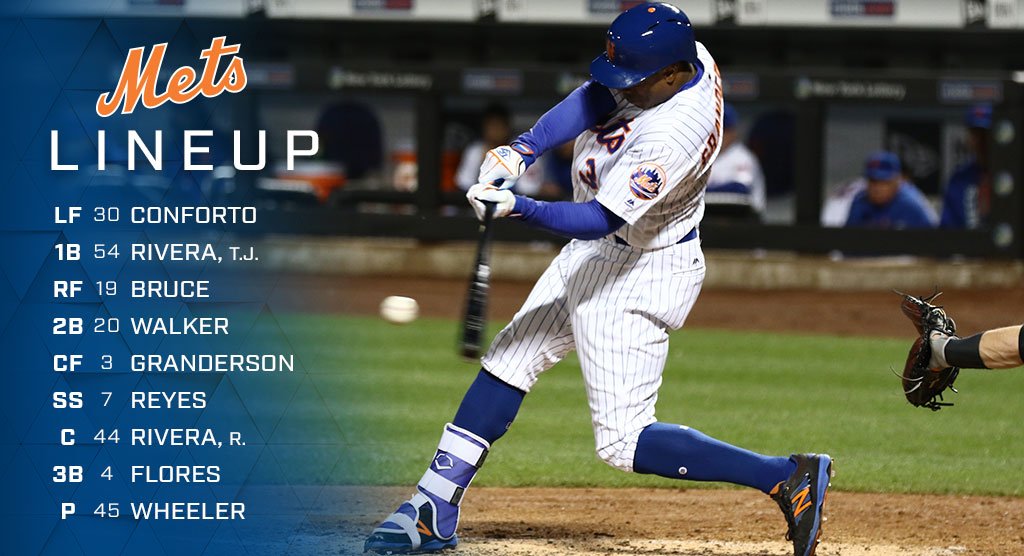 You have a bad fielding second baseman at 1B, 3B, and SS. You don't have your best hitter in the lineup at all — he's hurt. Your best catcher is also hurt. This isn't a good lineup. And it scored six runs tonight.
Third, the starting pitching was awful. I know that "Quality Starts" — 6+ IP, 3 or fewer ER — isn't the best metric, but it's an easy one. Over the 16 games, how many Quality Starts did the Mets put up? Four. Matt Harvey in game 17, Jacob deGrom in games 22 and 31. Wheeler tonight in game 32. (And Harvey was the losing pitcher in his!) On the other hand, we had EIGHT games where the Mets starter gave up as many runs, or more, than he had innings pitched. So to recap:
Harder opponents
Injuries to Cespedes, Cabrera, d'Arnaud, Duda (and Thor)
LOL Starting pitching
And yet, here we are at 16-16. .500 ball.
The Mets hope to get Duda back soon, and hopefully, Cabrera's thumb and TdA's Mr. Glass Disease will be fine soon too. The addition of Tommy Millone won't help much, but it will mean fewer starts from Rafael Montero and none from Adam Wilk. Oh, and the Mets next 16 games? They face the Brewers, Pirates, Angels, Padres, Diamondbacks, and have one more gain against the Giants. Through 32 games, only the Diamondbacks are above .500.
So, that's the good news.
The bad news is that my mini-season evaluation process assumes that 88 wins gets you into the playoffs, and as a result, the goal is seven 9-7 minis, three 8-8 minis, and a split of those last two games. The Mets have spent two of their three 8-8 credits. Mini-season #3 isn't one where they can afford to just tread water.
Originally published on May 9, 2017